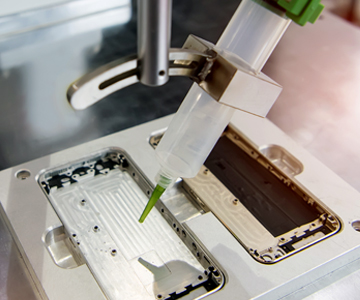 Industrial Flowable Silicones
Ready-To-Use Self-Leveling Silicone Sealants
Novagard Flowable Sealants are one-part, neutral cure, self-leveling products suitable for general industrial sealing and bonding applications requiring a flowable product.
Novagard Industrial Flowable Sealants with low/medium viscosity are conformal coatings. They are preferable to paste-consistency products where flow coating is the preferred application method and when flow into small crevices and hard-to-reach places is desired.
High viscosity sealants can be applied on vertical surfaces without sagging. They also have superior gap-filling properties designed to offer superior quality and long-term durability, particularly for their performance upon exposure to hostile environmental conditions.
Applications:
Pin/solder joint coverage
Thin section encapsulation
Sealing and bonding applications where low viscosity and self-leveling properties are required
Features:
Retain enough thixotropy to prevent leakage during the cure cycle
Superior UV resistance
Low odor and solvent-free with no isocyanates
Unprimed adhesion to a variety of industrial substrates