NovaFlex Qwik-Set Glazing Sealant wins DWM Readers' Choice Award Second Year in a Row
Cleveland, Ohio (January 30, 2023)
Readers of Door and Window Market magazine [DWM], a publication that exclusively covers the door and window industries, recently selected Novagard's NovaFlex Qwik-Set Glazing Sealant as a top choice among sealants for door and window products. This marks the second year in a row that this product received the award.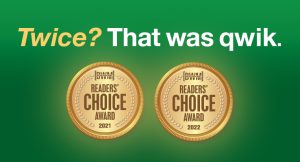 Designed to meet the demands of today's modern window manufacturing industry, NovaFlex Qwik-Set Glazing Sealant allows for movement of assemblies within minutes of application without silicone transfer or glass shifting. The silicone sealant enables manufacturers to speed up production, rapidly building adhesive and elastomeric strength for bedding and glazing of glass in residential and commercial window designs.
"When it comes to what our readers say they're looking for, speed is a recurring theme," says Drew Vass, DWM's executive editor. "With record demand for door and window products in recent years, it isn't surprising that a product such as Qwik-Set would become a two-time winner. Companies are looking for ways to speed up production while maintaining quality."
"We're thrilled to have DWM readers select our Qwik-Set product as the top sealant again in 2022," said Joe Borak, Novagard's Senior Vice President of Sales. "Giving our customers a sealant that achieves a tensile strength of over 25 psi after just 15 minutes has been a game changer."
NovaFlex Qwik-Set Glazing Sealant functions as an adhesive sealant which develops a primerless bond to most substrates and commonly used accessories in the glass and glazing industry. It allows for high unit throughput, low pumping viscosity on production equipment, and void-free filling of the sealant joint. In dark gray or black, Qwik-Set is currently available in 55 gallon drums of Base (Part A) and 55 gallon drums or 5 gallon pails of Catalyst (Part B). With a variable mix ratio from 8:1 to 12:1, cure rates can be adjusted based on your requirements.
Novagard will be at the 2023 NAHB International Builders' Show (IBS), in booth #C8148 from 1/31 – 2/2/2023, where they will be demonstrating a portable version of this award-winning sealant. NovaFlex Qwik-Set Portable Adhesive & Glazing Sealant, with its fixed 2:1 ratio, is a two-component, neutral cure silicone. Available in a dual cartridge, it can be easily applied using a portable pneumatic or battery powered gun for quick repairs in the field or where glazing tables aren't an option
For more information, or to request a demo, contact us at [email protected].
# # #
About Novagard
Novagard is a Certified Women's Business Enterprise headquartered in Cleveland, Ohio. They manufacture silicone sealants, coatings, lubricants, and foams for the electronics, transportation/automotive, manufacturing, construction, medical, and military markets. For more information, visit novagard.com.