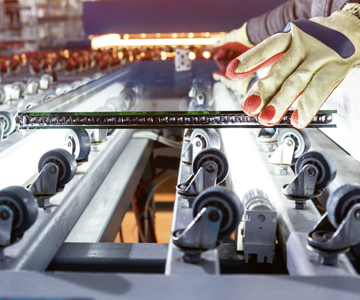 Speed Up Your Production
Qwik-Set Glazing Sealant and Qwik-Set Portable Adhesive & Glazing Sealant
Speed Up Your Production
Qwik-Set Glazing Sealant and Qwik-Set Portable Adhesive & Glazing Sealant
How to get your windows moving as qwik as you can
NovaFlex Qwik-Set Glazing Sealant is a two-component, neutral cure silicone that rapidly builds adhesive and elastomeric strength while bedding or glazing glass, allowing you to move assemblies within minutes without silicone transfer or glass shifting.
Qwik-Set means high unit throughput.
Rapid Cure
improves quality and reduces callbacks
Excellent Primerless Adhesion
to most substrates and accessories
Low Viscosity
is easy on pumping equipment
Adjustable Ratio
dials in your snap time
Squeeze-out Cleanup
that's qwik and easy too
And the industry is noticing Qwik-Set Glazing Sealant. It was Product of the Year from WinDoor in 2021/22. And in 2022, Door and Window Market [DWM] magazine named it the winner of its annual Readers' Choice Awards in the sealants category.
NovaFlex Qwik-Set Portable Adhesive & Glazing Sealant now available!
Building on the success of our award-winning NovaFlex Qwik-Set Glazing Sealant, this portable version makes hand glazing, field glazing, and field installation faster with high initial green strength. It is especially useful in tight spots and for repairs.
This new, fixed 2:1 ratio is available in a dual cartridge and can be easily applied using a portable pneumatic or battery powered gun for quick repairs in the field or where glazing tables aren't an option. Learn more >
Learn more about our
Qwik-Set Glazing Sealants
"*" indicates required fields