Sarah E. Nash Honored with 2022 Northeast Ohio Smart 50 Award
The Corporate College Smart 50 Awards, hosted by Smart Business, recognize the top executives of 50 companies in the region for their ability to effectively build and lead savvy organizations.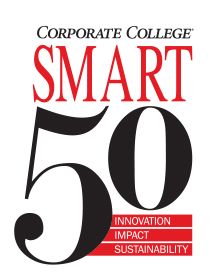 Successful businesses know their market and their customers. Smartly run organizations understand how their products fit into their markets, consistently manufacture those products in response to their customers' requirements, maintain a stable supply chain, and employ a trained workforce to ensure products are delivered on time and within budget. As owner and CEO of Novagard, Sarah E. Nash runs a smart organization.
Sarah strategically shifted from an industrial to an electronics-grade manufacturer of silicones when she became CEO and Chair in 2018. This allowed the organization to continue serving the building systems markets while seeking out opportunities in fast growing markets such as LED lighting, electronics, and solar energy.
Innovation is at the core of Sarah's growth strategy at Novagard. By smartly aligning her commercialization process with market needs, Novagard continues to see success. We've rolled out the industry's broadest line of UV/dual cure silicones that move components to the next step of assembly in seconds rather than days. We've introduced new electronics grade, optically clear conformal coatings used in outside LED lighting. And we continue to innovate in long established markets with a Qwik-Set glazing sealant for high-speed window manufacturing and a medical grade foam certified to the ISO 10993-10 protocol for direct skin contact for use in masks, face shields, and other PPE.
By aligning all departments within the company with the needs of the customer, Novagard remains at the forefront of silicone innovation while continuing to forecast strong YOY growth.
Smart 50 winners will be recognized on Wednesday, November 9, 2022 at The Union Club in Cleveland.