Novagard wins Top Products Award at METALCON 2022
Cleveland, Ohio (October 11, 2022) – Novagard, a woman-owned silicone manufacturer of silicone sealants for the construction industry, won top honors at METALCON '22.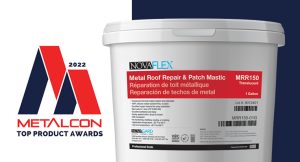 METALCON, the metal construction industry's only global event for metal construction and design products, technologies, and solutions, invited exhibitors to nominate their top metal products in one of 15 product categories.
Novagard was awarded METALCON's 2022 Top Product Award in the Roof category for NovaFlex Metal Roof Repair & Patch Mastic.
"We're excited to see this product get recognition in the market," said Joe Borak, Senior Vice President of Sales for Novagard. "It's an incredibly versatile sealer that's perfect for emergency repairs to leaky metal roofs."
NovaFlex Translucent Metal Roof Repair and Patch Mastic is a tough yet flexible mastic and roof sealer designed for repairs to metal panels, metal roof systems, gutters, and other metal buildings and structures. It fully cures into a translucent, rubber-like solid in as little as 48 hours, providing immediate waterproofing for short-term, long-term, and emergency repairs. This mastic is easily brushed into place for precise application. If high-build application is required, it can be applied with a trowel.
NovaFlex Translucent Metal Roof Repair and Patch Mastic is 100% silicone rubber (solvent free, no odor, and VOC compliant). Its translucent formula makes repairs less noticeable, and there is no hardening, chalking, crazing, or cracking.
It is recommended for repairing metal siding/metal roofs, gutters, chimney and roof flashing, snow guards, pipe boots, downspouts/trim, lap joints, exposed areas of copper, stucco, roof tile, termination bars, PVC/PVDF, single-ply, and aluminum.
Novagard will be at METALCON 2022 in booth #819, October 12 – 14, 2022, discussing their complete line of professional grade silicone sealants that are easy to work with, offer perfect color matching, and can tackle any job.
# # #
About Novagard
Novagard is a Certified Women's Business Enterprise headquartered in Cleveland, Ohio. They manufacture silicone sealants, coatings, lubricants, and foams for the electronics, transportation/automotive, manufacturing, construction, medical, and military markets. For more information, visit novagard.com.