Novagard selected as a 2022 Evolution of Manufacturing Honoree
Novagard has been selected as one of the 2022 Evolution of Manufacturing Award honorees by Smart Business. Since 2006, the Evolution of Manufacturing Awards have recognized NE Ohio manufacturers for their ability to innovate, create, and drive these processes, resulting in a positive impact on their bottom line.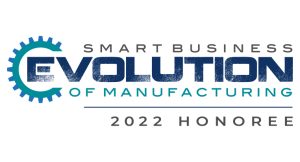 We're honored to be recognized for our achievements within the greater Cleveland manufacturing community.
When Sarah E. Nash took over as the Chair and CEO in 2018, Novagard was a regional manufacturer of industrial grade silicones that were mainly sold to the construction industry. Novagard also manufactured silicone greases and foam used primarily in the automotive market.
But the markets were changing and Sarah saw the broader role silicones could play in the manufacturing process. As the world became increasingly focused on the electrification of everything, more and more companies were looking for world class protection of their critical components. Silicones, with their superior stability, durability, and flexibility across broad temperature ranges, provide excellent insulation, vibration damping, and barrier protection against weather and other intrusions in electronics applications.
Sarah made the strategic decision to evolve Novagard from an industrial to an electronics grade manufacturer of silicones. She began a multi-year, multi-million-dollar investment plan in our people, plant, and processes.
With improved operations, each of our three divisions are innovating to meet the emerging needs of our customers. Novagard's Electronics & Electric Vehicles division transformed the electronics manufacturing process with a silicone coating that cures in just three to five seconds. We are the first and only manufacturer with four UV/dual cure alkoxy silicones certified to IPC-CC-830C (the industry's conformal coating qualification standard).
The Building Systems division expanded our professional grade construction silicones to offer a comprehensive line of roofing installation and repair materials. They are revolutionizing glazing throughput for window manufacturers with a rapid glazing sealant, and are entering the secondary sealant market for insulated glass with a silicone IG sealant.
The Industrial division has introduced a medical grade foam certified to the ISO 10993-10 protocol for direct skin contact for use in masks, face shields, and other PPE, and offers high temperature forms that are a cost-effective replacement that outperforms EPDM alternatives.
The award will be presented at the 2022 Evolution of Manufacturing Conference on Thursday, Feb. 24 at the Cuyahoga Community College Advanced Technology Training Center.