Novagard Joins WDMA
Washington, DC (June 12, 2023)
The Window and Door Manufacturers Association (WDMA) announced today that Novagard is the newest member of the association.
The Window & Door Manufacturers Association defines the standards of excellence in the residential and commercial window, door, and skylight industry and advances these standards among industry members while providing advocacy resources, educational and professional programs, and ways for members to provide greater value to their customers.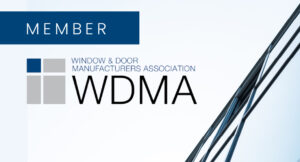 Novagard manufacturers a complete line of professional grade one-part and two-part silicone sealants, as well as hybrid sealants, designed for manufacturers, dealers, wholesalers, and contractors. NovaFlex silicones sit at the top of the Building Systems sealant hierarchy, offering permanently flexible seals that are VOC compliant, UV resistant, weather tight, and will not degrade over time.
Within the window manufacturing sector, Novagard glazing products meet or surpass all industry standards for window and door fabrication applications. Their FGIA/AMMA-approved formulations are trusted by Window and Door manufacturers for their high tensile strength, quick cure rates, and excellent adhesion to most substrates.
"We have been serving the window manufacturing industry for over 30 years, and are delighted to become a member of the WDMA", said Joe Borak, Novagard's Senior Vice President of Sales. "We look forward to working together with some of the best minds in the industry to continue to develop and support standards around high performance, quality windows and doors."
# # #
About WDMA
The Window & Door Manufacturers Association is the premier trade association representing the leading manufacturers of residential and commercial window, door, and skylight products for the domestic and export markets. WDMA members are focused on Total Product Performance™ products that are designed and built to performance-based standards. The association is focused on key member needs in the areas of advocacy, product performance, education and information, and facilitating business interactions and relationships in the window, door, and skylight industry. For more information, please visit www.wdma.com.
About Novagard
Novagard, a Certified Women's Business Enterprise headquartered in Cleveland, Ohio is an innovator and manufacturer of silicone sealants, coatings, lubricants, and foams for the electronics, transportation/automotive, manufacturing, construction, medical, and military markets. ISO certified 9001: 2015 (QMS with Design) and IATF 16949:2016 (QMS with Design), their products meet the highest standards. For more information, visit novagard.com.