NovaFlex Qwik-Set Glazing Sealant wins 2021 Readers' Choice Award
Door and Window Market [DWM] magazine, a publication devoted exclusively to coverage of the entire door and window industry, recently announced the winners of its annual Readers' Choice Awards. NovaFlex Qwik-Set Glazing Sealant from Novagard was the 2021 winner in the sealants category.
Designed to meet the demands of today's modern window manufacturing industry, NovaFlex Qwik-Set Glazing Sealant develops high initial green strength so you don't have to slow your production waiting for traditional glazings to cure. It rapidly builds adhesive and elastomeric strength for bedding and glazing of glass in residential and commercial window designs.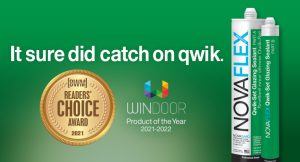 "Novagard's two-component, 100% silicone, neutral-cure sealant stole the vote in the category of sealants", said Drew Vass, [DWM] editor, "possibly for the way it helps to speed up operations."
NovaFlex Qwik-Set Glazing Sealant allows for movement of assemblies within minutes of application without silicone transfer or glass shifting.
"We're honored to have this product selected by DWM readers", said Joe Borak, Novagard's Vice President of Building Systems, Foam Seal, Hybrids, and Leisure-Pool & Spa. "Customers who have started using Qwik-Set are slashing their production time from a couple of days to minutes, seeing a huge uptick in output."
NovaFlex Qwik-Set Glazing Sealant functions as an adhesive sealant which develops a primerless bond to most substrates and commonly used accessories in the glass and glazing industry. It allows for high unit throughput, low pumping viscosity on production equipment, and void-free filling of the sealant joint. In dark gray or black, Qwik-Set is currently available in 55 gallon drums of Base (Part A) and 55 gallon drums or 5 gallon pails of Catalyst (Part B).
"This year's results showed a very high amount of interest in new products," Vass says. "There were a lot of photo finishes and ties, but Novagard's sealant was a clear winner in this category."
For more information on our innovative silicone sealant, or to schedule an in-plant demo, call us at 216-881-8111.