Driving Customer Satisfaction with Shorter Lead Times
Supporting and delighting our customers is at the heart of everything we do at Novagard. With that goal in mind, we're pleased to announce that we have once again shortened lead times across our product lines.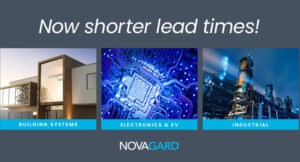 "Ensuring our customers have the high-performance products required for their use in hand when they need them is critical," stated Joe Borak, Senior Vice President of Sales. "Our products help drive their businesses forward, so we take our customers' needs very seriously. By improving our processes and productivity, we've identified and implemented ways to shorten our lead times."
Our silicone greases, electronic grade silicones, UV grade silicones, and industrial silicones are now shipping in 10 business days or less.
The lead times for our Foam Seal products have also been improved across the board, and are now 20 business days or less.
For our Building Systems division, we've cut lead times to 5 business days or less on our most popular colors of NovaFlex Multi-Purpose Adhesive Sealant, NovaFlex Metal Roof & Panel Adhesive Sealant, and NovaBond Smooth Hybrid Construction Sealant. Packed in cartridges and drums, these include:
White (MX/MR/NBP100)
Translucent (MX/MR150)
Black (MX/MR110)
Beige (MX140)
Charcoal (MR126)
Antique White (MX/NBP105)
Dark Bronze (MR120)
Silver Metallic (MR4103)
Lincoln Bronze (MX/MR1210)
Brown (MR1370)
Gutter Gray (MR3514)
Light Gray (MR115)
Medium Bronze (MR134)
Sandstone (MX1460)
Exterior Bronze (MX1940)
Nearly all other building systems products are shipping in 10 business days or less, too!
Need your products in a rush? Just ask! For more information on delivery of your specific product, please contact our Customer Operations team at 216-881-8111.