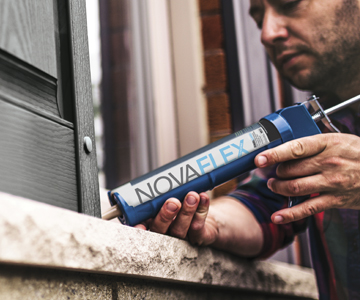 NovaFlex Multi-Purpose Construction Sealant
NovaFlex Multi-Purpose Construction Sealant
NovaFlex Multi-Purpose Adhesive Sealant is an odorless, all-weather silicone that completely cures in a couple of days, and remains flexible to resist cracking, mildew, and discoloration for years to come.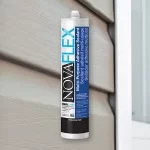 NovaFlex Multi-Purpose Adhesive Sealant is recommended for many construction applications including windows, doors, door sills, head expanders, flashing, cap beading, reglazing broken/defective glass, gutters, nail fins, fiber cement, vinyl siding, and trim coil.
Great for exterior and interior sealing
Permanently flexible
Will not shrink or crack
Waterproof
Superior UV resistance
Tack-free in 10 minutes, completely cured within 48 hours
No solvents or odor
Will not freeze
Excellent adhesion to most building substrates
Easily gunned at all temperatures
Learn more about our high-performance construction caulks and sealants.
NovaFlex Multi-Purpose Adhesive Sealant is color matched to over 170 industry standard colors for major siding, trim coil, and window manufacturer colors. Download Color Card
NovaFlex Multi-Purpose Adhesive Sealant is a non-corrosive general-purpose oxime-cured, silicone compound. With excellent tooling characteristics, this product has been used in the construction industry for over 20 years.






Learn more about NovaFlex Multi-Purpose Construction Sealant
"*" indicates required fields
Novagard is a privately held Women's Business Enterprise and U.S. manufacturer of silicone sealants, coatings, lubricants, and foams for the electronics, transportation/automotive, manufacturing, construction, medical and military markets. We have been proudly manufacturing in Cleveland, Ohio for over 40 years. To discuss how we can assist you, fill out the form above, call us at 216-881-8111, or email [email protected].