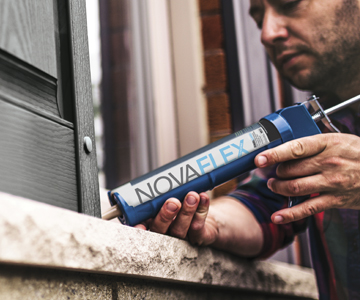 NovaFlex Gutter Seal Paste and Flowable Gutter Seal
NovaFlex Gutter Seal Paste and Flowable Gutter Seal
NovaFlex Gutter Seal is an encapsulating compound that cures even when wet and remains flexible for a permanent seal.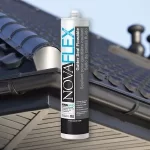 NovaFlex Gutter Seal Paste and NovaFlex Flowable Gutter Seal are non-corrosive, single-component silicone coating and encapsulating compounds. They are designed for use in gutter applications, under decks, patio covers, and carports.
NovaFlex Gutter Seal Paste is a non-sag formula for general purpose assembly and sealing of gutters and rain carrying systems.
NovaFlex Gutter Seal Flowable is a self-tooling, non-shrinking, semi-flowable sealant perfect for miters and corners.
Both are perfect for wet and cold weather applications and are recommended for: vinyl-clad gutters, aluminum gutters,  galvanized gutters, steel gutters, metal flashing, metal trim, metal awnings, and downspouts.
Excellent adhesion to most common building materials
Non-flammable
Extrudes down to -20°F
UV and mold/mildew resistant
Permanently flexible
All weather formula
Solvent free
Impervious to UV light
Tack free in less than 30 minutes; completely cured in 24-30 hours
Learn more about our high-performance construction caulks and sealants.






Learn more about NovaFlex Gutter Seal Products
"*" indicates required fields
Novagard is a privately held Women's Business Enterprise and U.S. manufacturer of silicone sealants, coatings, lubricants, and foams for the electronics, transportation/automotive, manufacturing, construction, medical and military markets. We have been proudly manufacturing in Cleveland, Ohio for over 40 years. To discuss how we can assist you, fill out the form above, call us at 216-881-8111, or email [email protected].