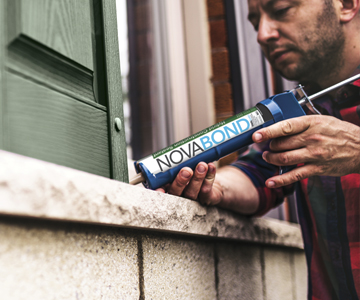 NovaBond Hybrid Construction Sealant
NovaBond Hybrid Construction Sealant
NovaBond Hybrid Construction Sealant is an advanced hybrid sealant that strongly adheres to almost any material while remaining permanently flexible.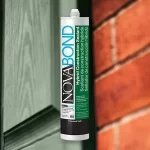 Available in Smooth and Textured, NovaBond Hybrid Construction Sealant is an all-weather, paintable hybrid formulation that stays flexible and is resistant to shrinking and cracking. NovaBond applies well in temperatures ranging from -10° F to 160°F and will not sag or slump. The cured sealant is waterproof and UV and mold/mildew resistant.
Recommended for Sealing: Siding, trim, windows, doors, flashings, weather sealing, pre-cast concrete, masonry, roofing details, stucco, fiber cement, and asphalt shingles.
Can be painted/top coated in 1 hour for seamless color matching
Tack free in 10-45 minutes and completely cured in 5-7 days
Great for interior and exterior sealing
Will not sag or slump
Excellent tooling and weathering properties
Joint movement +/- 35%
Applies vertically and overhead
Safe to use indoors – no odor
No solvents (VOC compliant in all 50 states)
Bonds to a variety of substrates without priming
Textured formulation complements coarse surfaces like mortar, brick, stone, concrete, asphalt, or stucco
NovaBond Hybrid Construction Sealant is color matched to many popular manufacturers.
How to Buy Download Color Card
Learn more about our hybrid construction caulks and sealants.
– Get Specs for Smooth
– Get Specs for Textured







Learn more about NovaBond Hybrid Construction Sealant
"*" indicates required fields
Novagard is a privately held Women's Business Enterprise and U.S. manufacturer of silicone sealants, coatings, lubricants, and foams for the electronics, transportation/automotive, manufacturing, construction, medical and military markets. We have been proudly manufacturing in Cleveland, Ohio for over 40 years. To discuss how we can assist you, fill out the form above, call us at 216-881-8111, or email [email protected].